18th April 2019
Dear Customers,
Haven't been in touch for quite some time. Got so many things happening during our exciting transitional period. So much to talk about yet not easy to communicate precisely. Wonderful new ideas, offerings, venture & possibilities are taking place at Heather & March!
It has always been our company mission to give our customers unique, authentic, beautiful & hopefully useful lifestyle experience through the products and services we provide. By changing our service model and embracing our original and authentic philosophy, we aim to bring more of such experience to you. In fact , we have actually been sharing our lifestyle know-how with customers ever since the beginning of our Heather & March journey, pioneering the delivery of unique gastronomy & lifestyle classes, offering rich know-how that are very much favored by our customers and friends. I am grateful that Heather & March can have the flexibility to adapt and change and to go back to our roots.
We believe one just can't follow the trend without proper internal reflection. A business is like taking care of your body, you need to know what your body is before blindly following any diet, health, or medicine intake. Know who you are, this is the stage where we are at. I am excited that we have found a better direction to service our customers, and look forward to unveil the new Heather & March to you when we are ready. Stay tuned & we will come back with more exciting details.
Meanwhile do enjoy our final warehouse stock clearance before our moving on to a new home!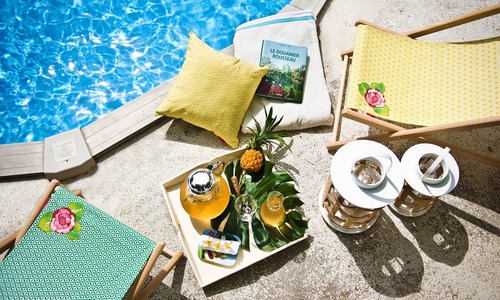 Wendy Siu
———————————————————————————————————————————————————————————
New Chapter of
Heather & March
​15th November, 2018
Dear Beloved Customers,
It is with great anticipation and joy for us to announce the new exciting chapter of Heather & March entering 2019. In respect of our growth in the past twenty years towards the direction as a specialized curator for refined lifestyle, fine living know-how, elegant homeware, exquisite métier d'art and interior sourcing, we believe our current shop no longer suffice to provide the service we aim to deliver. Due to this reason, our company has therefore decided to modify our servicing model in order to serve our customers in a more exclusive manner.
From January 2019, our shop at Prince's Building will cease to exist. We would like to take this opportunity to thank our customers with gratitude for their kind patronage, loyalty and support throughout these twenty years. The happy successful journey of Heather & March will not be made possible without you, and exactly due to this reason, we will continue our service to our dedicated customers through private appointments, special orderings and on-line service while extending our other equally important interior and hospitality project businesses.
Once again to thank our dear customers, our shop will be offering our Big Removal Sale starting from 16 November so that you can take final advantage of the fabulous offers of our world renowned homeware and interior products never offered before until the end of year while stock lasts. Any customer orders placed before, during or after this period will certainly continue to be serviced and delivered as usual. Furthermore, with any new ordering placed from now until 31 December, customers can enjoy attractive ordering privileges. Please refer to our E-newsletter for more details.
After January 2019, please find us at our website www.heatherandmarch.com or through our Facebook, Instagram and other social media platform. Our sales specialists will continue to serve you at our office through private appointment and we can also be reached via telephone at # 21160839 or via email at contact@heatherandmarch.com
Never say goodbye…. please stay tuned with more news of the celebration of our new chapter in 2019.
Wishing You, Our beloved customers, families and friends A Happy Holiday ahead!
Sincerely yours,
Wendy SIU
Founder & CEO
———————————————————————————————————————–
Happy Spring Lantern Festival of the New Year of the Dog
2 Mar 2018
Dear Friends of Heather & March,
How are you? Missing all of you!

I have been rather busy starting off the year thus please
excuse me for my late Chinese New Year blog! Today is our
Spring Lantern Festival and may I Wish You All A Very Happy
Chinese New Year of the Dog filled with love, success and prosperity!
During this Chinese New year season, I must introduce this trendy 'Darling Dog' collection from Gien which is such a whimsical and happy all year long gift to friends for this Year of the Dog ! Also check out the avant-garde Chinese bowl from the collection of 'Garance' by Gien too. The elegant 'Chinese Tea' tea towel collection so well made from Le Jacquard Français adds such an elegant touch to this joyful season whether to use it in the ktichen, as a runner or to serve your champagne.
At Heather & March, our products and services are meant for customers to create that precious sharing moments whether at home or as gifts to express their love and thoughts.
…Also like to greet you with my home made Pear and Almond Tart which I have used a special pâte sucrée recipe to make my pastry. I am very satisfied of the taste and the look, and thus like to share the following with you. I used the very pretty and user friendly baking tray made by Gien to bake my tart, and Gien's cake platter with the matching dessert plates to serve my home baking. Do check out our array of choices at our store for you to share your joy of entertaining and dining with your dear ones.
If you are interested to learn how to make it and how to serve it in a stylish way, do join us at our next baking class in May. Details will follow later via our Facebook.
Food & Philosophy
During this busy début of 2018, I enjoy my baking during my free time which allows me to submerge into the wonderful tranquility and peacefulness to rest my mind; and while doing my baking, I have discovered that the technique of baking somehow reflects a certain aspect of life, living skills and philosophy. This time I like to talk about Depth vs Superficiality. Superficial efforts won't deliver good long term nor solid results, therefore it won't last. It also doesn't deliver the right flavor.
Like baking, if one just follows the steps and just be technically fine yet not bothered to explore further in validating the recipe, to learn and observe, knowing why those steps are needed, why the ingredients and the baking agents need to be combined in a particular sequence in order to produce the magical baking reaction, the end result would just be a wishy washy by-product. If one doesn't possess the required depth and foundation, and just simply do the job superficially, the cake might have been done but it lacks depth and flavor. It is pretty much like writing too, writing something without real content, that could be annoying…So back to the cake and pastry, the flavor might not be too bad yet it lacks its soul and sophistication. Ah….that is my point, the difference between sophisticated tasty cakes versus just an OK cake. It is also about doing the job with solid skills versus superficial skills. It could be an interesting analogy about how one deals with one's life. Life without depth can be dull and tasteless and lacks endurance.
Time to build
I would like to take this opportunity to thank the GBWEA – Golden Bauhinia Women Entrepreneurial Association, who had given me an Honorary Award in Hong Kong last November with the aim to inspire future young female entrepreneurs. During the ceremony, I had the chance to share what 'entrepreneurship' means to me. It is about 'How to build', so I would like to encourage our young and thriving generation to go ahead and 'Build' your future, keep on building and during the process, examine yourself first with humility before you examine others what can be done better. Throughout the process you will face both highs and los, both success as well as failure yet throughout the journey, you have certainly build your precious 'Strength' that no one can take away from you. That is depth versus superficiality. Avoid the regrets, be brave and start building today.

About Elegance –
If you ask me what is the basis of elegance, I would no doubt point out that it has everything to do with one's humility and sensitivity. Today we see great examples of the completely opposite; a great deal of self-righteousness armed with defensive mannerism and small tunnel vision mindset, in order just to get one's voices heard or get one's points ruthlessly across with no consideration and sensitivity of others. That is certainly not what elegance is about. Elegance is based on love, humility, empathy and sensitivity. Embrace, embrace.
—————————————————————————————————————————————
Wishing You A Very Happy & Prosperous Chinese New Year of 2018!
15 Feb 2018
Wishing You A Very Happy Chinese New Year of 2018 Flourished with Prosperity & Great Fortune!
—————————————————————————————————————————————
How To Host A Classy Christmas Party At Home
24 Nov 2017
Please kindly refer to our know-how story of our "How To Host A Classy Christmas Party At Home"
——————————————————————————————————————————
How To Host An Elegant Mid-Autumn Outdoor Party
19 Sept 2017
Please kindly refer to our Know-How Part 7 of our "How To Host An Elegant Mid-Autumn Outdoor Party"
——————————————————————————————————————————
French Riviera Summer
9 July 2017
My first visit to the Côté d'azur was almost 15 years ago. I still have this vivid memory of enjoying the deep blue sea with the céleste blue sky as the French would refer it, meaning the heavenly blue sky when staying at one of the spectacular sea-side villas for our friend's wedding. As time goes by, I get more influenced by the sunny weather which does make my days go
brighter!
Luckily with our Hong Kong harbor being nicely positioned, we are fortunate to be able to enjoy the beautiful beaches and sea surrounding us. I particularly envy my friends who do live in their yachts in Hong Kong permanently taking advantage of this beautiful season!
It is time for us to enjoy this summer filled with relaxing sea breeze under the sunny blue sky! It is also the perfect time to 'show off' your happy colored homeware and linen; so here is my suggestion for you in this hot July month. Let's go for the rich, bright and spirit uplifting color theme to awaken the liveliness within you!
Color
Nowadays, we are very lucky to have such impeccable wide range of color choices. The color hues are becoming far more attractive with an exciting variety of color mixing technique. What a fun and creative world we are living in today! It is therefore no longer adequate just to describe a 'color' but we have to include the color mood and combination when we want to build the right color palette for our clients.
So what color is hot and trendy for this summer? Let's start with blue.'Blue' is certainly the color that relates to the sea and ocean and it gives us such a happy mood just to think about it. Why don't we use that as a base color and match it with some refreshing tone like primrose yellow and orange? Well so what 'blue' to use? I would recommend a more trendy Nigara blue, Aquamarine or Island Paradise, or Cerulean Blue. Why blue, yellow and orange? Because whenever I visit the French Riviera, I am often inspired by this happy and stylish color-mix frequently shown in their home decoration, interior and surroundings, usually complimented with pure clean white textile with green plants. I do have good memories for anything good ! On the other hand, white and blue always convey a sea marine mood. It will never be an outdated choice, as long as with a slight twist of the blue tone if a different hue is needed just to keep it more interesting. I tend not to recommend using red to match with the blue as red carries a certain weight and heaviness which might not fit too well for the light summer mood. If you must, use a lot of white to tone it down. We want to achieve a bright and lively but not a strong atmosphere.
When adding the green tone to your setting, you can also try pairing that with Lurite green, Greenery color which are the new trendy hue for this summer, and they go really well with my suggested blue color.
So once we got the color sorted out, we can start arranging our table setting. Some recommendation include using blue tone tableware with white or yellow or orange table cloth, or vice versa> using blue tablecloth instead and paired with simple plain white or yellow or orange colored tableware. The green color is quite neutral color and you can always try to insert that into your setting whenever appropriate. Whether it is for a more refined summer parties or a casual gathering among friends, this theme can work well. You are welcomed to see the following examples using our French tableware from Gien, Raynaud, Cutlery from Ercuis, Sabre, Table linen from Le Jacquard Français and Noël, causal accessories from our other brands for your fun experiment.

Wishing you a Happy Summer and will speak again in August when I will share my ideas of creating a soft and breezy summer setting. Look forward to be in touch again soon!
Why & How to use French porcelain for Chinese dining
I am pleased that while I was conducting my table etiquette seminar for some VIPs in China last month, some audience were inspired and shared among themselves some words I said. I reviewed that while there is a saying that goes "You are what you eat" I like to say that " You are how you live". I am impressed and grateful for the great attention that the audience had given to the speaker with their enthusiastic learning attitude.
I am not sure why that whenever we mention Chinese cuisine, even though when referring to the most complicated and refined dishes that we are eating, you will probably notice that people will automatically say "Well, but for Chinese food we don't need to use that good of the tableware ….." But why? I think we have not been treasuring enough, nor have given enough attention to our exquisite Chinese cuisine as it deserves, which is prepared with such complexity and sophistication, weaved with such deep cultural know-how and history, which is just as complex as French cuisine, as many of my French'gourmand' friends do agree. Just to name a few, the ways of Chinese cooking involves so many techniques and so much precision like steaming, braising, slow cook, pan fried, wok fried, stir fry, deep fried, quick boil, double boil, etc. It is fascinating.
My French supplier has been making specific Chinese shapes not just to cater for the market but also to celebrate the fine Chinese culinary know-how. So why use French porcelain for Chinese dining? Why not? They are the perfect match that expresses elegance, cultural dynamics, know-how, skills, and good taste! It is no 'big deal' to use French porcelain for Chinese dining. Raynaud has been producing these beautiful shapes since 30 years ago, ( see following the well know Si-Kiang pattern used to serve Chinese rice noodles). Even Gien who is more known for its French style ceramic, is making Chinese bowls for us. You are welcomed to visit us to explore these ideas . It is stylish and fun to do so, especially with today's Chinese and western cuisine crossover menu. You see that a lot in Michelin French restaurants using many Chinese shapes to serve French food with creativity. So it is time for us to be dynamic and go 'global' with our Chinese cuisine. I am sure you will enjoy the result and bring everyone at the table much delight with your sophisticated etiquette!
——————————————————————————————————————————
Five Second Rule
9 May 2017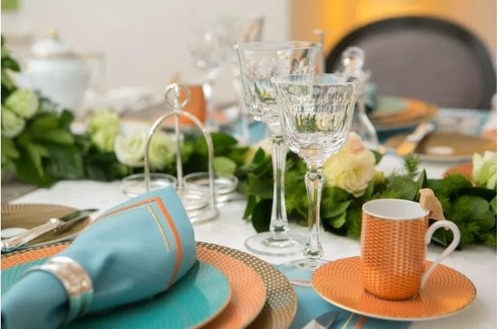 Dear Friends,
Missed speaking to you since my last posting. Sharing meaningful ( I hope!) thoughts requires tranquil moment to do so, thus I prefer to sit down, take my time , think it through to write my stuff. My audience like you have always been on my mind, yet I just can't seem to get around with my writing due to all the activities going on these days, so please pardon my slow output. We had finished hosting a very beautiful ladies afternoon tea event last month with happy success at the residence of the Consul General of France. I will get to those lifestyle tidbits later on and also to talk about the everyday table linen usage tips mentioned at my last blog but first, I would like to share with you something that I wanted to express some time ago- I have currently established my Five Second Rule, and I hope it could be of interest to you. What is that, you may ask?
Well, throughout the years of interacting with different people from all walks of life, I often found that most people, regardless of their background and education can be very judgmental towards others and tend to 'jump' into conclusion immediately without giving people any slack. I love the sentence someone wrote >> " Please don't judge, every man has a story to face behind that you know nothing about." That explains it… My Five Second Rule is about giving people some slack without pre judgement, showing an act of gracefulness.
Don't you notice in our society today that people just lash out harsh words, criticism, cynical statement and unforgiving perception immediately towards others, without the slightest bit of courtesy and mercy. When encountering people that are different from them, or things being handled differently from their way of living, judgement is being formed simply based on the limited view of their own world, without deeper understanding and knowledge of others. So easy to 'say' things and gossip irresponsibly but bad words are the worst yeast in fermenting a bad dough, distorting the whole social harmony. This is lack of grace and is not a positive reflection of what our civilization is about.
We can form opinions or assessment but we can't form judgement. My five-second or even to my five-hour, five-day or five-years rule dependent upon the case, is to allow myself to take a deep breath, think it through, understand, hold my horses until a clearer picture can be viewed. Once we have deleted that judgement that could cloud our view, we can actually see better and be able to see more beautiful people and things around us in this world.
There will be disappointment of course with people who might not deserve this act of kindness but we can't take one bad case to determine everyone. We should continue to extend our objectivity and kindness. How do this macro view apply to our lifestyle scenario? Gracefulness, elegance and sophistication are all extended through the basis of civilized thinking and behavior. Our lifestyle philosophy is about harmony, beauty and dynamism. Harsh judgement just don't seem to fit into this elegant picture at all, it is so out of the place.
Afternoon Tea – Continue to weave our city's fabric of sophistication
A quick recap of the afternoon tea gathering we had hosted at the home of the Consul General of France on 13 April 2017. We have invited some friends of Heather & March who also came with their daughters to enjoy the French joy of entertaining. We are proud of Hong Kong for our sophisticated lifestyle and we wish that this unique fabric of the city is continuously being weaved through generation and generation. For details please refer to our Facebook: https://www.facebook.com/media/set/?set=a.1664908623549481.1073741846.208117035895321&type=1&l=956664b27b
Practical table linen for everyday
For all of us who are always on the run, whether we have helpers or not at home, you will find our Le Jacquard Français' coated stain resistant table cloth a must-have at your homes. Magically, they don't need to be washed, even if there are wine and food stain, you only need to wipe it with clean wet cloth and it will be ready for usage again. Not only it is a real time saver, but this efficient product is so well made that it does not look like a stain resistant table cloth with the tacky plastic look at all. Quite the reverse, it is chic, stylish, subdue and beautiful that fits into our daily lives easily. It comes with table mats, runner and table cloth. I really enjoy using them every day.
Check out the next interesting blog about Wendy's views on Why and how to use French porcelain for Chinese dining?
———————————————————————————————————————————–
Spring Arrival
5 April 2017
Spring has finally arrived! How wonderful to hear the birds singing, the sun shines up in the sky, flowers are leaves are gradually coming out of their cocoon. I am so thrilled to welcome the arrival of my favorite season. I immediately have numerous ideas on how to welcome this spring both at my home and at my store. I have often been asked about how to compose different schemes for different seasons. While there are many elements to consider when doing so, color utilization is usually one of the top factor in creating any theme. Color expresses a state of mind, an impression and mood. For example there are colors that express serenity, richness, softness, simplicity, vividness, and many other expressions too.
For this spring, I naturally would like to use colors in green. To me green signifies nature and growth; for example the growth of flowers, leaves, trees, grass which are all related to nature. I find that our new collection from Gien 'Jardin Extraordinaires' which translates to 'Extraordinary Garden'. The design of this collection is about nature and is theme offers a fabulous subtle springy colors that fits with this season rather well. Why? Because its green palette offers such a modern hue that matches especially well with the current trendy and fashionable emerald and turquoise color tone. By adding a touch of warm soft red color can even further complete your table scape rather nicely for this spring. This green hue is subtle. It therefore gives a clear distinction between the bright sharp green colour usually found in summer than the more graduate evolving green color hue used for Spring.
As the design is about nature, it is perfect for my spring home décor or table setting creation. I like their desert plates with different motifs especially the ones with the French kiosk in chinoiserie style. I am happy that I had picked up some very elegant hand embroidered napkins from Noël in France to go with these plates with the similar motifs. Talking about balance and harmony in my last two sessions, how amazing! Love using cocktail napkins at home when I am receiving few selected friends. It is so much more civilized to use real cocktail napkins versus paper napkins if one can manage! Do check out their Japanese style tea pot , this kind of cross over design is so much in trend in Paris, very Parisian in spirit!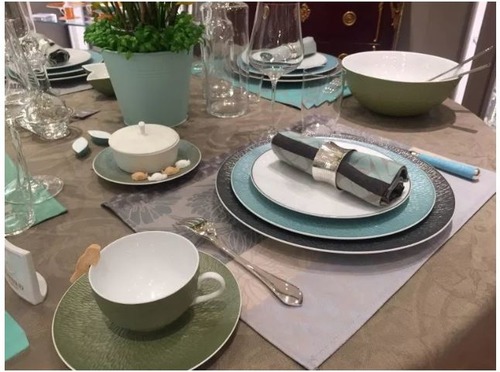 While we are talking about the latest trendy color hue of turquoise, olive green, I find our new Minéral collection of Raynaud a very stylish one. The precise lines and shapes of Mineral Irisé, which is actually also the characteristics of fine porcelain, make this collection a very sophisticated items for a fine modern stylish home. While Gien provides warmth and spontaneous Parisian style, I love the texture in Mineral Irisé for their luxurious but subtle expression.
I wish you all a very happy and refreshing Spring Arrival!
Stay tuned for Wendy's tips about using the right table linen for practical day to day living with style
——————————————————————————————————————————
Get Back to our Roots – Similarities between Chinese and French Elegance
3 March 2017
Hi friends, I am back and pardon for taking a bit long with my second blog story.
As mentioned earlier, my second article is to talk about the similarities between Chinese and French elegance. Really…..similarities? Yes, and in the art of living, I do found that there is indeed a great deal of similarities between the two cultures. It is about self-control, balance act and subtleness. This mannerism is being delivered in such an unspoken and elegant way, especially in the sophisticated world of socializing or communication between civilized people.
It is a pity that in today's world most people just seem to get the impression about our latest Chinese culture being dominated merely by loudness and boldness. It is really not the case if we trace back our ancestral roots. We used to live our lives with the belief of inner strength, subtleness, inner wisdom, calmness, courteous manners which all speak volume about what elegance is about.
One analogy I like to draw on is the similarities between our literatures. I have always enjoy reading French poetry although I can't keep up remembering it after reading it…but to submerge myself into those beautiful words is a total delight to me. I enjoy comparing the similarities between French and Chinese writings and poetry. In just a few words, our whole universe, our deep sentiment, love, pain, joy, struggle can be illustrated and expressed so vividly in such great 'depth'. This also explains my preference about quality lifestyle; you don't really need a lot, you actually need 'depth'. People scratch the surface these days to look for answers but the matter in fact lies in a greater depth.
So back to the subject of Art of Living, it is about pursuing this beautiful act of balancing and wisdom with depth. In elegant living, there is also no room for loudness. To be elegant, you don't need a lot really to obtain this, you just need depth and quality. When we have the privilege to have nice things for our surroundings, it is not about their price tag that we want to flaunt to people, yet sadly people seem to be dwelling into this more and more leading into more vulgarity in our society; rather, it is about the precious know-how and experience behind all these wonderful products and service we should appreciate and treasure. Once we know how to appreciate fine things in life with the right perspective, our inner elegance will follow. This applies the same whether in French or Chinese elegance. It is just that simple.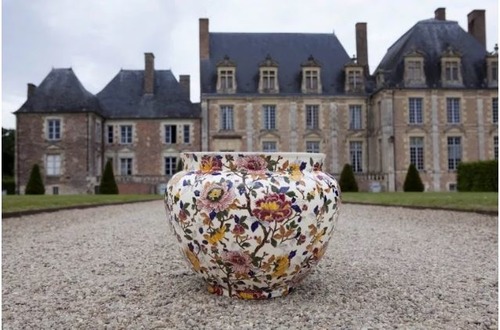 —————————————————————————————————————————————
Chinese Valentine's Day
11 February 2017
Keep the Faith!
Dear Friends of Heather & March,
I am finally starting to write my blog today. Co-incidentally today is our Chinese Valentines' Day. I would thus like to take this opportunity to wish you all A Very Happy New Year of the Coq and in the years to come filled with love, happiness and success!
As most of our customers might know, neither Heather & March nor myself were born in the era of the fast paced social media world. While it is great to share company information with friends and customers, I have always been reluctant to go beyond that line although I have been advised to personally voice out more, share more, to 'come out' more, etc etc because I carry a role of being the French lifestyle ambassador and our audience may like to draw inspiration from my personal experience and knowledge.
My belief about elegance and grace have always been so firmly entrenched in my personal living philosophy, and thus trying to talk about oneself frequently via such a wide platform have always been a 'faux pas' to me. Having your lifestyle business without sharing your personal experience is also not being very progressive but don't we respect subtleness, modesty and humility anymore these days? So how to balance?
Yet with everything else, it takes time to understand in order to see and feel better one's matter in order to make appropriate decision and take the right action from it. I am therefore rather glad that I didn't rush into doing my blog without thinking carefully and merely following what people say. I never 'buy' that. I am a believer of using one's heart instead of just using one's brain to make my judgement call. After further research, I gradually understand and starting to see the positive side of connecting with many nice people via the right platform if it is being done in a right manner.
Keep the faith, just do the right thing with humbleness and beautiful things will happen, that is my life's motto. Don't 'strive', a term I used to use a lot during my very young days. To strive is actually not natural and not in tune with God's nature; actually there is no need to 'strive' but simply be 'still'. By being 'still' here is not to mean doing nothing or being inactive or reactive, but the word in this context represents a spiritual virtue of behaving oneself with faith, calmness, confidence and belief in overcoming challenges so we do not need to strive based on fear or doubt. Just do the best you can naturally and God will take care of the rest.
So here I am with my blog, not shouting out loud, not trying to wrap up as many viewers as possible within the shortest possible time, not to make any fuss just for the sake of it. The key principle is – as long as I am sharing positive, valuable, sincere and inspiring content with good motives, and to do it with style and sensitivity, I do see the promising side of it.
This is the blog about sophisticated, elegant and beautiful lifestyle and know-how coupled with my personal living philosophy. Hopefully it is also armed with wisdom and virtues. To live beautifully and successfully, there is indeed a way of living one can follow, or as the French say, the art of living.
There are too many negative voices and bad taste filled with pessimistic energy in our society today. Having accumulated altogether my professional and personal life experience in either the dynamic and sophisticated lifestyle world or in the corporate business world for almost 30 years, I hope I could at least share some positive principles, thoughts and ideas about what it takes to build a successful, fulfilling and beautiful lifestyle.
I hope you would enjoy reading my content dedicated especially for my friends and customers. I would like to take this opportunity to thank you very much once again for your valuable support and patronage. You are in fact the driving force behind in whatever we do at Heather & March.
Keep the Faith and keep walking!
********************************************
You are cordially invited to view our Art Of Living Video at https://www.youtube.com/watch?v=MEwcmk28oaE&feature=youtu.be & Stay tuned for our next topic about Similarities and Differences between Chinese and French Elegance
Background of the Writer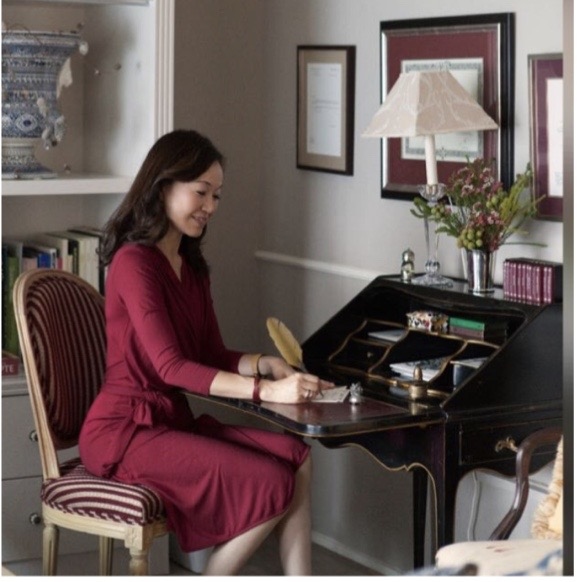 Mrs. Wendy Siu is the Founder and President of Heather & March since 1998. A Hong Kong born and bred person, she received her local education in Hong Kong and obtained her university degree in U.S.A. She was a corporate executive working for global conglomerates prior to establishing her own business. As an intern and a graduate, she worked at MCI Telecommunication Corporation in U.S.A. since 1985 servicing corporate accounts. Back to Hong Kong, she joined British Telecom International in U.K. based in Hong Kong as Regional Sales Manager – Asia, and General Electric Hong Kong as Regional Sales Director during the period of 1989-1996 developing global multinational accounts, responsible for regional sales development and distributor management. She took up culinary art, home decoration and porcelain training in France & U.K. after she left her corporate career. With her passion in home ware and gastronomy, she started Heather & March as an entrepreneur in 1998. She is the pioneer in offering authentic lifestyle programs in sharing the art of living and culinary know-how with customers ever since the début of Heather & March. She has been regarded as the key French lifestyle ambassador in Hong Kong.
Siu has been honored with a national French knighthood medal, 'Chevalier of the National Order of Merit' by the French government in 2005, and got promoted to 'Officier of the French National Order of Merit' in 2012.
She has been appointed as Vice President of the Executive Board Committee, Alliance Française of Hong Kong in 2011 since she joins the committee board in 2008.
She has been appointed as the Trade Advisor of the French Foreign Trade Advisory Committee, Hong Kong in 2013.
She has recently been appointed as the Supervisory Board Member of the House of Laurent Perrier Champagne in France in 2016.