The word "nexum" comes from Latin and literally means "connection". This is the vocation of this new daily ally: the wireless and fast universal charging station for cell phone to stay connected to the world and to your loved ones. Raynaud elevates technological and practical objects by giving them a new aesthetic dimension. To charge your smartphone with ease, discover this Limoges porcelain accessory covered with a leather box. A 15W wireless fast charger is integrated in the matte porcelain engraved with the Mineral pattern. An elegant and refined solution to make your daily life easier and whose organic shape inspired by pebbles blends with all interior styles.

To match to your interior and your desires, Nexum offers three customizations. 
For any customization request, please contact our Customer Service.

The Minéral base is adorned with the different colors of Raynaud's iconic decor.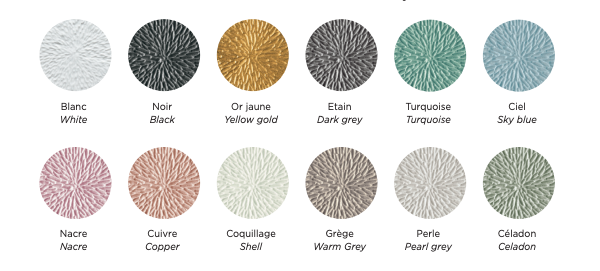 The leather box cover is available in 8 different colors.

The leather can be custom stamped with a logo or a text (name, initials, date...)

Compatibility: 
• iPhone 8, X, XR, XS, XSmax, 11, 11Pro, 11Pro Max 
• Samsung Note10, 10+, S10, S10+
• Google Pixel4 
• Works with all lightweight protective shells (up to 3mm thick)

Sold in minimum quantity, please contact customer service at contact@heatherandmarch.com or WhatsApp +852 95007936.